Will Smith and Jazzy Jeff News
Vinyl Destination - New Jazzy Jeff Series
Vinyl Destination is a new series which follows DJ Jazzy Jeff as he tours around the world. Watch the first episode below:
VINYL DESTINATION | EPISODE 1 from DJ Jazzy Jeff on Vimeo.
Ayah Interview
DJ Jazzy Jeff & Ayah just released an album called "Back for More." Hear what Ayah has to say about it and what Ayah & Jeff have in store for us for the future in this exclusive Ayah Interview.
Jazzy Jeff & Fresh Prince return in 2011
2 weeks ago Will Smith visited DJ Jazzy Jeff's studio and they worked on some new music. This is the first time they have collaborated since working on Will Smith's album, "Lost and Found" in 2004. According to XXLmag Jeff had the following to say about the collaboration:
"He came down like two weeks ago and was like, 'Yo, I wanna get back into the studio, and we just knocked out some stuff," Jeff told XXL. "I just think more than anything there is no set pattern, no set plan, but we just wanna go into the studio and see what we come out with. If I can get it back to the way we used to make music, you know, it used to be just me and him in the room. You don't need no entourages and cameras and all of that and see what happens. He hasn't decided exactly what he wants to do."

Even though Will is one of the biggest movie stars in the world his heart is always with hip-hop.

"Will has never not wanted to do music," Jeff shared. "When you're pretty much the biggest movie star in the world, the movie people don't want you to do music 'cause you ain't making $50 million off of making music. From a financial perspective, movies is where it's at. And it's not like his heart is not in the movies, but he's always wanted to do some level of music."
New music video for the DJ Jazzy Jeff & Ayah "Back for More" album, for the single "forgive me love." You can download the album for free from here: http://backformore.bandcamp.com/
Will Smith has begun working on a comeback rap album, his first in 6 years. Those rumoured to be involved include The Neptunes, Gillie Da Kid, and "Mars" one of Game's producers.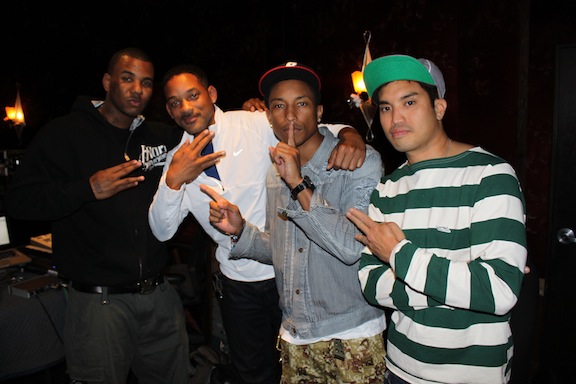 Darren Henson has produced tracks for Will Smith, Jill Scott, Floetry, Lil Kim, Musiq, Darius Rucker, Earth, Wind & Fire and Patti LaBelle. His latest project is by a young singer named Julia Figueroa, and her single is called "Sunday Morning Pancakes" Buy the track now on iTunes: Sunday Morning Pancakes
Buy the track now on iTunes: Sunday Morning Pancakes Visit Julia's Facebook Fan Page
DJ Jazzy Jeff is a DJ Hero!
DJ Jazzy Jeff appears in the brand new Activision game released October 27. Listen to his amazing mixes in the game and hear what Jeff has to say about his involvement in our DJ Jazzy Jeff DJ Hero page.
Download Jazzy Jeff's new Michael Jackson mixtape "He's the King, I'm the DJ" for free.
Convince Will to rap again, join the Facebook Cause!
If you want Will Smith to make another rap album Join the Facebook cause: http://www.causes.com/willsmith and then get your friends to sign up. If we get enough members we will show it to Will to convince him to record again!
Jazzyjefffreshprince.com on twitter!
For the most up to date Will Smith and Jazzy Jeff news follow us on twitter! http://twitter.com/jjfp
Jazzy Jeff remixes The Pharcyde - Passing Me By
Check out the video below, to download this and more remixes of hip hop classics by Jeff check out DJ Jazzy Jeff presents "My Favs" here for free: http://www.zshare.net/download/56895555ba86df7a/
New Jazzy Jeff single
Jazzy Jeff has a new single out called, "House of Tribe." It's a House track out on Ts Box records. Features remixes from Kenny Dope & Terry Hunter. The track uses a famous sample from A Tribe Called Quest track. You can buy the single online from traxsource. Released in stores Feb 19th.
New Will Smith Podcast
Kel Spencer Free mixtape!
Will may not be focusing on music right now, but Kel is. Kel featured on Uuhh(Willennium) and Jazzy Jeff's The Return of The Magnificent (The Definition) as well as being responsible for tracks like Switch and the chosen one. His new mixtape is global connection and it's completely free. Download it now: http://www.zshare.net/download/51790615aade28d5/ and spread the word! Quality hip hop for a change.
Seven Pounds
The Seven Pounds trailer is here.
Will Smith Podcast: Episode 22
The latest podcast is here! We review Hancock. Download it now
Jazzy Jeff & Fresh Prince performed at the L.A. Hancock premiere
Check out the performance of Brand New Funk & Summertime below:

Fresh Prince and Jazzy Jeff reunite... from MickBoogie on Vimeo.
More clips from the show on the forum
What happened to Will Smith and Jazzy Jeff Hancock tour?
The performances at Hancock premiere's around the world in June were cancelled. I've got no idea why but Will has said him and Jeff will go out on tour later in the year.
Will Smith Podcast: Episode 21 is out now
Listen in to the latest podcast!
Download all the episodes or subscribe at the Will Smith podcast page.
Hancock World Premiere Cancelled!
Sony got worried by the test screenings of Hancock and forced Peter Berg into reshoots of the movie just weeks before it's released. The movie wrapped back in November 2007. As a result of this the world premiere in Australia on June 10 has been cancelled because the movie won't be ready. The world premiere will now be in France one week later.
Will Smith and Jazzy Jeff Performing around the world in June!
Jazzy Jeff & Fresh Prince are back together and performing alongside the Hancock premiere's. Check the tour page for full details on the concerts. Come back here as more dates are announced!
Here's Your Chance To Strut With The Stars

W Desires is offering the chance to win a trip to the Hollywood premiere of Hancock, starring Will Smith and Charlize Theron.
Enter here for a chance to win: http://www.condenastdirect.com/wdesires/hancock/index.cfm
The grand prize winner and a friend will be treated like Hollywood royalty with professional hair and makeup styling before they are whisked off to walk the red carpet at the star-studded June 30th premiere.
The prize package also includes round-trip airfare and two nights at a chic Los Angeles hotel.
Hancock in theaters July 2nd
New Podcast Episode!
Episode 20: We discuss Bad Boys 3, I Am Legend and the alternative ending. Willow in I Am Legend. Jaden in Karate Kid Remake. Will Smith and Jazzy Jeff summer concerts. Brand new funk 2k7. New roots track "Get Busy" featuring Jazzy Jeff. Timbaland and Will Smith? Will Smith and Hitler misreporting. Will Smith and Scientology press lies. Will Smith is not a scientologist! Haters trying to bring Will Smith down. The I Am Legend novel. Has will smith finished with music? KSmith Will Smith's nephew's music. Will Smith starts filming new movie 7 pounds and early Hancock reviews. Download Will Smith Podcast 20 Now
Hancock Trailer is Here!
Will Smith's Hancock premieres July 2nd 2008. Check out the teaser trailer below:
I Am Legend Kills at the Box Office.
I Am Legend has has now made over 500 million at the box office. I t has made 250 million in the US and is going to reach over 300 million overseas. Its another huge success for Will and Overbrook Entertainment.
Wenn has issued an apology to Will Smith
Quoting: On December 23, the World Entertainment News Network (WENN) issued an erroneous and dangerous statement attributed to Will Smith about Adolf Hitler being a 'good person.' This report was false and misleading. The quotes attributed to Mr. Smith misrepresented Mr. Smith's actual remarks. We take full responsibility for the dissemination of this story around the world. We offer Mr. Smith a sincere apology and deeply regret the personal stress this has caused him and his family.
I Am Legend NYC Premiere Giveaway!!
JazzyJeffFreshPrince.com is proud to give away 2 double passes to the I Am Legend Premiere in New York. The premiere is at Madison Square Garden at the wamu theatre on 7th and 32nd street Tuesday December 11th.
The film starts at 7pm but you will have to get there early because its gonna be crazy!
All you have to do to enter the contest is to reply to this topic on the forum with your name and e-mail. You will need to register on the forum to make a valid entry, I won't accept entries from guests.
The contest ends thursday so you haven't got much time.. I will put all entries into a hat and randomly select 2 winners.
Remember you have to be in New York or be able to get there for December 11th. Good Luck and remember I Am Legend is out everywhere December 14th!
Enter I Am Legend Contest
Jazzy Jeff & Fresh Prince World Tour July 2008

Will Smith & Jazzy Jeff plan to go out and perform at the Hancock premieres around the world in July of next year. Will Smith recently said at an I Am Legend press conference:
"We're going to go out big in July," Smith, who gained fame as the "Fresh Prince" with Townes, told reporters in a news conference in Beverly Hills, Calif., on Nov. 30. "We are figuring out some places around the world to do some big shows. It's about to be that circle back to the golden age of hip-hop. There is starting to be a little resurgence, so yeah, we are planning some things. ... It will probably go out with Hancock and do performances with premieres around the world."
Kel Spencer - Brooklyn Spartans Mixtape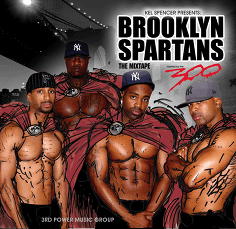 Kel Spencer is back! Kel featured on Uuhh(Willennium) and Jazzy Jeff's The Return of The Magnificent (The Definition) as well as being responsible for tracks like Switch. His new mixtape is "The Brooklyn Spartans." Kel has assisted in 10 million record sales, writing for artists such as Will Smith, MC Lyte & Wyclef. There is no cursing in his raps and unlike many rappers today he actually spits something that means something. So if you want intelligent raps deliverd by a skillful emcee get that mixtape! Sparta!
You can grab the mixtape now @ http://www.myspace.com/kelspencerfans