And in this Corner...
"And in this Corner..." continued on in very much the same style as Jazzy Jeff & Fresh Prince's first two albums. Ultimately I think this is why it wasn't as commercially successful. It still went gold but it was considered a failure and led to Will's break from rapping and move into television. "I Think I Can Beat Mike Tyson" was a funny track but not as funny as past hits such as "Girls Ain't Nothin' But Trouble" and "Parents Just Don't Understand." They did make a great video for it though which featured Mike and Jeff and Prince playing older versions of themselves. Besides Mike Tyson, if you listen to the album though it is actually very good and quite underrated. Compared to rap albums that came out in 1989 it stands up very well.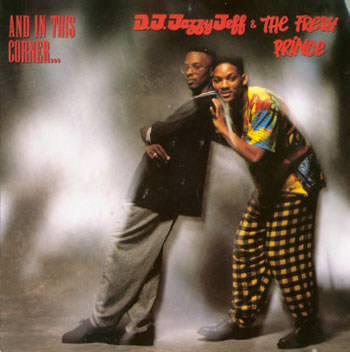 The album starts off with the very strange, "Then She Bit Me." This track was recorded by someone different in the studio coming up with a new line for the song each time. It creates a very disjointed track and the lyrics aren't very connected but it is one of the funniest tracks Jeff and Will ever did. The beat is great and eerie and the strange story adds to the twilight zone like feel.
"Jazzy's Groove" is a real highlight of the album. The Fresh Prince again narrates how good Jeff is and Jeff drops in a super smooth beat. The remix of "Jazzy's Groove," "Grover's Groove," appeared on the 12" and featured Jazz legend Grover Washington Jr. This was one of the first ever collaborations between a jazz artist and a hip-hop group. A highlight of the track is when Jeff breaks it down and starts giving a math lesson with a range of vocal samples. The production on the album is again a step up from the last and features more background vocals and sounds in the mix.
The album is dominated by Fresh Prince's comedic storytelling, while "He's the DJ, I'm the Rapper" was a lot more diverse in its range of tracks this album continues what was popular off their last two albums. "Everything that Glitters" is a humurous story of pirates, natives, and a human sacrifice. This wide range of storytelling in rap was still something very different than what was going on at the time as groups such as N.W.A and Public Enemy began to emerge. "Girlie had a Mustache" is one of Fresh prince's funniest tales about a girl who was actually a guy. The jazz infusioned beat and James Brown samples creates an amazing soundscape for Fresh Prince to rap in. "Who Stole My Car"is another funny story about Fresh Prince's car being stolen. The highlight of this track is the other characters voices and sound effects which add to the story. When he rings the car phone and talks to the thief it is a truly hilarious moment. This track also highlights what was great about Fresh Prince's rhyming and that was his vocal delivery. The different styles of inflections and emotions he put into his rapping really helped him bring the stories to life and make them funny.
"You Got It" is another highlight off the album. The track is about a gold digging girlfriend that takes advantage of the Fresh Prince. The chorus features some great Jazzy horns and Jeff scratching up vocals. Fresh Prince's rhymes are strong and his gradual improvement as an emcee continues, with more complex rhyming techniques and a better sounding flow. "The Reverend" is a track designed to get you dancing. It has one of the best beats on the albums and features plenty of great scratching and even a bugs bunny sample. FP acts like a reverend speaking to his congregation encouraging them to dance and his flow is effortless.
The best track on the album may in fact be "Men of Your Dreams." This track features Jazzy Jeff on vocals and even delivering a rap. The premise is Will and Jeff competing for the same woman and trying to talk to her. The back and forth between Will and Jeff is actually funnier than any of the Fresh Prince's stories. The beat is again very good and ably supports Will and Jeff's vocals which includes a lot of talking instead of rapping.
"Numero Uno" is a hard hitting battle rap track. This track features the Fresh Prince showing off his impressive rhyming skills with some very fast rapping and some great punchlines. It features a more sparse beat which allows the emcee to shine. The track stands out since its tone is quite different to the rest of the album but it is sill very solid. "Too Damn Hype" is a track about the Too Damn Hype posse which included JJFP's bodyguard, Charlie Mack, their manager James "JL" Lassiter and their dancers Omarr "O-Money" Rambert and Bam. Their friendship remains today and they all went on to work with Will as he become one of hollywood's biggest actors. The track features background chants and the Fresh Prince describing who their crew are.
The album closes out with the one DJ dedicated track, "Jeff was on the Beat Box." It's an uptempo track featuring fast rhymes and Jazzy Jeff letting loose with a barrage of scratching. It's a great way to end the album on a strong note.
If you put "And in this Corner..." up against the 4 other Jazzy Jeff & Fresh Prince albums you would probably say that it is the weakest. It is still a very good rap album though and it features a lot of funny fresh prince storytelling raps.
Tracklisting
Then She Bit Me
I Think I Can Beat Mike Tyson
Jazzy's Groove
Everything that Glitters
You Got It (Donut)
Girle Had a Moustache
Reverend
Who Stole My Car?
Men of Your Dreams
Numero Uno
Too Damn Hype
Jeff Was on the Beat Box