DJ Jazzy Jeff - The Return of The Magnificent
The Return of the Magnificent was released May 2007.
DJ Jazzy Jeff - The Return Of The Magnificent

RR0068CD / RR0068LP
Worldwide Release Date: May 7th 2007
US Release Date: May 8th 2007

Official Tracklisting

1. Hip Hop - Twone Gabz
2. Let Me Hear U Clap - feat Pos of De La Soul
3. Run That Back - Eshon Burgundy & Black Ice
4. The Definition - feat Kel Spencer
5. Touch Me Wit Ur Handz – ChinahBlac
6. Jeff n Fess - feat Rhymefest
7. Practice - feat J Live
8. Supa Jean - feat Jean Grae
9. The Garden - feat Big Daddy Kane
10. She Was So Flyy - feat Kardinal Offishall
11. Hold It Down - feat Method Man
12. All I Know - feat CL Smooth
13. Go See The Doctor 2k7 - Twone Gabz
14. My Soul Ain't For Sale - feat Raheem Devaughn
15. Come On - feat Dave Ghetto
16. Brand New Funk 2k7 - feat Peedi Crakk
DJ Jazzy Jeff - The Return of Hip Hop EP
Artist DJ Jazzy Jeff
Title The Return Of Hip Hop EP
Format(s) 12"
Catalog # RR0072EP
Release date: July 16th, 2007
Side A
A1 Brand New Funk 2k7 feat. Peedi Peedi
A2 Hold It Down feat. Method Man
Side B
B1. $ Can't Buy Me Love feat Biz Markie
B2. Let Me Hear U Clap feat. Pos
TROTM Early iTunes Release!
DJ Jazzy Jeff's new album "The Return of The Magnificent" has been released early on iTunes. Buy the album now!
Return of The Magnificent iTunes Link
Podcast Review
Check out Tim and Kevs comprehensive track by track review of the album in the jazzyjefffreshprince.com podcast. Download it now Or Subscribe to the Podcast.
TROTM #1
The album has gotten off to a great start. Its been the #1 hip-hop album on iTunes USA and in the top 5 hip-hop albums in UK, Germany, Austria, Belgium, Italy, Japan, Luxemberg, Netherlands and Switzerland.
JAZZYJEFFFRESHPRINCE.COM Review
The Return of The Magnificent reminds us why we love hip-hop. Swimming upstream against a sea of mediocrity such is the current state of hip-hop TROTM returns to the glory days of the genre. Jazzy Jeff's second album is poignant, interesting, diverse, fun and most of all a great album to listen to.
Jeff's previous album was more an A Touch of Jazz collaboration in this album we get all Jazzy Jeff. Every beat, expert scratch and production masterfully handled by The Magnificent. It makes a difference too this album towers over its predecessor. Once you've finished with the disc clocking in at a lengthy 80 minutes you will feel uplifted by the quality. It's the kind of album you would expect if you had listened to all the Jazzy Jeff & Fresh Prince albums and solo Jazzy Jeff tracks. Jeff was always a sampling producer and one of the best and he displays it on this album. The beats feature great samples, great cuts and great scratches.
The artists Jeff has chosen to work are also a steup up from the previous album and it elevates the tracks to a new level. The lineup of Pos from De La Soul, Big Daddy Kane, J-Live, CL Smooth, Rhymefest, Method Man perfectly fits the laid back vibe. Underground emcees such as Twone Gabz, Kel Spencer, Black Ice, Kardinal Offishall, Dave Ghetto and Peedi Peedi step up to the plate alongside the bigger names.
This is the best hip-hop album in years and each track is of such a high quality it deserves its own review. So here goes:
Hip Hop
This is the perfect start to the album. Although I've never heard of Twone Gabs he is very impressive. He is rhymefest's protege and he lays down a good message on hip-hop. "We can't let it end, far as I remember you been my best friend (hip-hop) forever ever forever ever and ever ever me and hip-hop together." It's a great ode to hip-hop as well as a reflection on the current state of the genre. "now how they gonna say/ I ain't real unless i'm pulling triggers or gunplay/cause I ain't hustling pushing drugs or money/I think y'all going about the music the wrong way." Twone hits us with more great lines "just cause I'm talking sense, don't mean I'm soft." He then wonders why "do you measure a cats skill by who the hardest? how bullet wholes to your body solidify an artist?" This track is a true theme that makes you wonder what's happening to commercial hip-hop while still stating one's love of hip hop. Twone's right we can't let it end this is an album and music that needs to be supported. Adult hp-hop is what Jeff calls it. If you grew up on a tribe called quest, run dmc, de la soul, public enemy etc this track is for you.
Let Me Hear You Clap
Pos from De La Soul and Jazzy Jeff is an exciting prospect. I can't help but think a more laidback jazzy beat would have suited him more. Pos still brings it with the rhymes though, "shoulda tried acting, but fronted on trying, unlike Will who make the mills as an actor, so Jeff's the DJ I'm still the rapper." Clap, Yeah! Let me hear you clap everybody! It's a very solid track.
Run That Back
This is an unbelievable track. I'm a fan of Black Ice and this track he really brought it. The beat is quite cinematic and Black Ice and Eshon weave an emotional tale. It's quite a solemn track and is definitely one of the best on the album. "6 shots echo from the PJs, next month number one request for the DJs" On life choices "only thing I turned down was the job from my cousin when asked me if I wanna slang 'caine/nothing could make me do that" and brings it back to "mother fan of the son that get killed she be alone/so she keep praying for him and hoping to bring him home" They then expertly tell the days of Jeff @ block parties, "Saturday cut the streets off/Jeff about to rock the block/give us all what we been feening for/a meaning for life a little break from this constant strife we living in" Then they finish the song with "I live for my people, I die for my people." This is just a great song and it makes you think.
The Definition
Just over a year ago I was telling Kel Spencer that Jeff was recording TROTM and he should do a track for it, well he did and this is it! Kel's got great skills and flow and his verse on "Uuhhh" on Will Smith's Willennium showed he was an emcee to watch. This beat Jeff's hooked up for Kel is ridiculous. Great little piano loop. "Jeff and Kel and em is killin em out there/I study yall, what are yall doing out there? Yall perpetrating and piggybacking and copycatting, but yall be copycatting sloppy rapping and y'all be latching on to fads nothing substantial." Just a touch of this brilliant track. Then kel gives us a promise, "As an emcee I promise you/that I ain't never gonna do the stuff they do/fist to my heart pinky swear its true/theres some bullshit going on..going on" Kel just runs with this beat with some expertly crafted lyrical wizardry that makes this track a pleasure to listen to again and again. The definition of a real emcee..definitely.
Touch Me With Your Hands
This beat is deep real deep. Chinah blac who I think was a backup singer for Jill Scott lays a sultry vocal. She doesn't leave much to the imagination but the track is undeniable. A real smooth laid back groove and it changes the pace of the album up nicely. "its more than penetration/more than a quick sensation/cause when we get together its love at its purest form/because you love me and I know it and you aint afraid to show it"
Jeff N Fess
This track has a great sample, a heap of scratching and some clever rhymes from Rhymefest. Just another head nodder to add to the album. "if down south is right, then I wanna go left." Can't disagree with that.
Practice
This chorus took a while to get used to it. It's basically someone speaking, so it's pretty unusual but the more I listen to this track the more I like it. J-Live is an incredible emcee and every single line of his is quality. He brings it once again. He lays down what it takes to be an emcee of his quality, practice. "I been passed up gassed up bounced around man/thrown off the glass just to see what sticks/I have yet to score big like Allen Iverson maybe someday J could endorse a pair of kicks/but for now as long as I can afford a pair of kicks and a closet to put em in/I'm a put em on/and walk these dogs/get my hustle on/break bread for my younguns so they grow up strong" 3 of the highest quality verses you will ever hear. Another 10 out of 10 track.
Supa Jean
This is the only track on the album I'm not really feeling. Mainly because the old school ultramagnetic mcs beat doesn't really suit Jean Grae's style. Maybe a more old school emcee would have been better. The beat is dope and so are the rhymes but they just don't seem to match each other. It does give the album a nice old school change up though.
The Garden
I think this is the best track on the album. It's a hip-hop classic. The beat is amazing and Big Daddy Kane reminds us what real hip-hop is all about. "Niggaz aint showing if they skills is there/niggaz ain't trying to build careers." It also has one of the most poignant choruses "In the garden of hip hop always stay true/and always remember just what a snake do/watch those around you cause they'll be fake too/and never let the game make you." His second verse is an ode to hip-hops fallen soldiers, "your lifestyle and your musical gift/in the hearts of many you will truly be missed." This track is just two masters of hip-hop killing it. I'll be listening to this for years to come.
She Was So Flyy
This is one of Jeff's very best beats. A great chorus that is very catchy ensures you will be putting this one on repeat quite a bit. Kardinal drops a very nice rhyme about one of those girls you will never forget. It's a simple formula but it works so well.
Hold it Down
Jazzy Jeff and Method Man? That's a lethal combination. Jeff starts with a flurry of scratches and sets up Meth nicely. Its another killer beat and Meth kills it with some crazy multi-syllable rhyming and signature sick flow. "crews still stuntin/radio still frontin/and the stuff they still bumping/ got me numb I feel nothing Jeff" This track is the bump a lot of people would feel this "as far as emceeing I ain't liking what I'm seeing man." More classic hip hop, it doesn't get better.
All I Know
This track is so good I never get tired of it. I've been listening to it every day for months. CL Smooth just drops such an exceptional thyme over the perfect beat from Jeff. Unlike the Jean Grae track this completely works and is the perfect mesg of DJ/Producer and emcee. This is just a classic track that rivals all those Pete Rock & CL Smooth albums. Is it too much too ask for a Jazzy Jeff & CL Smooth album?
Go See The Doctor 2K7
This is a cover of the Kool Moe Dee track. This is potentially the best beat on the album. It's "you saw my blinker" good from the Homebase album. An unstoppable beat and Twone Gabz once again impresses. It is like a more adult Jazzy Jeff & Fresh Prince track. Very, very funny. Jeff scratching up "I'm burning up" in the choruses is hilarious. It's another favorite track of mine but this album has plenty. "It wasn't worth it to me/now I hurt when I pee"
My Soul Ain't For Sale
This is such a smooth track. It gets better with each listen. Raheem delievered the best track "My Peoples" on The Magnificent. For the return he's come up with something even better. "Turn it up, turn it up so you can hear it proper" The majority of TROTM is straight up hip-hop but the two soul tracks are really impressive and offer a nice change up throughout the album.
Come On
Well Jeff's using a familiar sample here most commonly used in Meth & Mary J Blige's "All I Need." It's a refreshing take on the sample and shows off Jeff's skills in taking a sample but making it your own. Dave Ghetto provides a truly touching and inspirational rap. "they say we living in the last days hard times upon us.." "they say we all lost so let your thoughts be your guide and recognize what I'm spitting is much more than a rhyme." It's an emotional song and it really makes an impact.
Brand New Funk 2K7
This track is going to be hard for a lot of Jazzy Jeff & Fresh Prince fans. Brand New Funk is a hip-hop classic so it's gonna be a hard one to re-do. No one better than Jeff to do it though. He re-does the beat and it makes it sound a lot better than the original. Peedi gives plenty of nods to Will and JJFP. Is Peedi's verses better than Will's? Probably not but he does rhyme very fast over the beat and it gives a nice new fresh take on an old song. If you forgot about the original this new version does sound great. Great beat and some quick clever rhymes.
Other TROTM Reviews
Nobody Smiling - Very positive review from this hip hop site.
DJ Jazzy Jeff Documentary
This documentary was filmed on Jazzy Jeff's Asian Tour in 2006. In provides an insight into the life of a touring world class DJ. Both funny and informative it's well worth checking out.
http://www.bbemusic.com/media/jazzy_001.mov
The Return of The Magnificent Website & Podcast
BBE has done an official web site for the album http://www.thereturnofthemagnificent.com/
There is also a 6 part Jazzy Jeff video podcast series which can be accessed here:
http://podcast.thereturnofthemagnificent.com/
TROTM Interviews

King Mag Interview
European Tour Dates for April

5th Lost Club, Bergen Norway
6th Barcelona Spain
7th Club Yes at Berns, Stockholm Sweden
8th Newcastle UK
10th Cambridge UK
11th Sevilla Spain
12th Munich Germany
13th Belgium
14th Rotterdam Netherlands
15th Glasgow UK
18th Club Goa, Rome Italy
20th Sheffield uk
21st Biel Switzerland

The Return of The Magnificent EP is out Now on BBE/Rapster Records.
It will feature the following tracks from the Return of the Magnificent album:

A1. Jeff N Fess - feat Rhymefest
A2. My Soul's Not 4 Sale - feat. Raheem DeVaughn
B1. Whatever U Want - feat. Little Brother
B2. All I Know - feat. C.L. Smooth
B3. BossyNova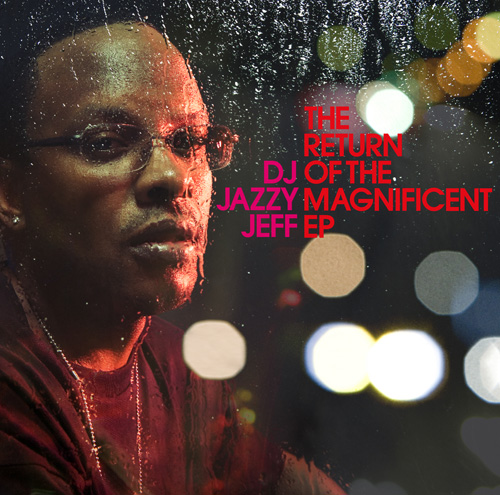 Jazzy Jeff has been working on The Return of The Magnificent for 2 years now in between his constant touring of the world. Jazzy Jeff made this album as if it was his last. On a whiteboard in his studio he wrote up a list of artists he's always wanted to work with. A lot of those names have been ticked off and made their way down to the studio for one of the greatest DJ's of all time. Jeff describes this record as his very best, and it will feature artists such as Method Man, Krs-One, De La Soul, CL Smooth, Little Brother, Rhymefest, Big Daddy Kane & Kardinal Offishall. This will be one of the great hip hop albums, so be prepared. March 2007 signals the return of the magnificent, and it will be more than welcome considering the current state of hip-hop.
EP Review
Well The Return of The Magnificent EP is a nice little preview of the forthcoming album which is released in March on BBE Records.
A1. Jeff N Fess - feat Rhymefest
This beat Jeff originally did for his remix to "here he comes".. He's used this now for the collab with rhymefest. The track is classic Jazzy Jeff with james brown samples and a hell of a lot of scratches! The chorus is just Jeff cuttin it up "yes yes yall///come on come on" Rhymefest has a lot of clever lines, including references to he's the dj, i'm the rapper. Solid track, and now Jeff & Fess wanna do an album together.
A2. My Soul's Not 4 Sale - feat. Raheem DeVaughn
I love this beat.. It is really smooth and laid back..with rhodes..deep bass .. just an amazing classic "jazzy jeff" vibe plus jeff scratching.. It's a real deep track so it was great that Raheem ended up working on it.. They actually recorded the song the day J Dilla passed so the track is dedicated to him.. well its worthy of a jay dee beat so its a great tribute. Its an interesting track about the current state of music and Raheem declares his soul ain't for sale. Haunting vocals over jazzy jeff scratches. Very smooth.
B1. Whatever U Want - feat. Little Brother
This track really grows on you.. It may be the best little brother track I've ever heard. Its really catchy, and surprisingly features a lot of singing! Little brother is speaking to this girl and just telling her to relax at their house.. Its another just classic Jazzy Jeff beat…
B2. All I Know - feat. C.L. Smooth
Oh Boy..this is it.. I'm calling it now.. one of Jazzy Jeff's best tracks ever! This is a straight classic! I can see myself listening to this track for the next 10 years and never getting tired of it..Its perfect.. The beat is a low key jazzy vibe with piano and keyboards.. Jazzy Jeff has got the best out of CL Smooth too..his 3 verses are so great.. Every line is sublime, every word has meaning.. This is classic 93/94 hip hop. "marvel at the up close and personal meeting of the minds" I cannot wait for people to hear this track.. It just has a timeless feel too it.. Imagine your favorite JJFP track and this is right up there alongside it.. Its interesting to compare this to the rhymefest track..its like the new school rappers vs the old.. CL Smooth tells a story and its very focused..rhymefest is just dropping clever lines in a freestyle fashion..rhymefests track is good but CL's is brilliant.. I doubt 50 cent fans will be loving "all i know" as much as me, but those who love a tribe called quest/de la soul/black sheep and pete rock & cl smooth will be rejoicing
B3. BossyNova
This is a nice tune..sum nice jazz and V crooning over the top with ooohhhs and aaahhhs.. I imagine this will break up the album nicely.. you can just groove to it..great in the car too.. You probably heard this beat on jeffs myspace..the finished track is slightly different than that with the extra vocals.
Overall
If you liked The Magnificent.. you are gonna love The Return of The Magnificent.. These TROTM tracks are 10 times better in my opinion.. Jeff is producing every beat.. the tracks have a real jazzy flava.. and he is working with some of hip hop and soul's finest artists. He's spent a couple of years on the album too, so I think the extra time he's worked on the album will have been worth it. The EP is out now, album coming in March..get ready cause Jeff is bringing a hip hop classic!