Rock The House
Jazzy Jeff & Fresh Prince's first album was recorded in the basement of Jeff's mom's house. The songs they recorded were based on a lot of the routines they had been doing at block parties in Philadelphia. Girls ain't nothing but trouble was the standout hit, featuring the fresh prince's classic storytelling alongside a classic TV show theme from the 60s. It was a mix of humour and fresh beats that crossed over into audiences who were getting their first taste of hip hop. The album features the early imprints of what Jazzy Jeff & Fresh Prince would become. Jeff's trademark scratches and samples, and Fresh Prince's comedy rhyming and misadventures.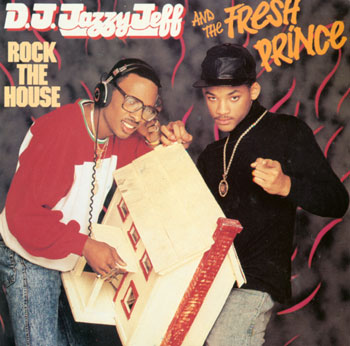 "Just One of those Days" is a classic storytelling track of events going wrong. The tracks on this album still sound a bit raw but it was a great first album. The title track "Rock the House" featured human beat box Ready Rock C. Ready Rock was a friend of Will's an integral part of JJFP's early live shows. "Rock the House" had some amazing beat boxing for the time, as he flipped back and forth with the Fresh Prince on beats and vocals. The track showcases his amazing skills. Although he didn't continue past JJFP's second album he was an important part of the group's early development. His beatboxing of "Sanford & Son" and then doing it underwater would make crowds go crazy live and it is captured nicely on this track.
"Taking it to the Top" is classic battle rhyming track from the Fresh Prince, he would improve dramatically on this front in future albums but he does a commendable job here. The beats on "Rock the House" are relatively sparse and feature some great scratching from Jazzy Jeff but they do take this to the next level in "He's the DJ." Still, it's a good example of old school rap in 1987.
The standout track for quality on this album is "The Magnificent Jazzy Jeff," this still sounds amazing to this day. Jazzy Jeff displays some amazing scratches on this track. He drops the "transformer scratch." This was the first time this scratch was ever released on vinyl, it is now a trademark of DJ's worldwide. In 1987, this was the first time people ever heard it. It also has Jazzy Jeff's chirp scratches which Jeff invented, he would later use these on Gettin Jiggy Wit It. If you want to look at Jazzy Jeff & Fresh Prince's hip hop credibility, one listen to this track would put your mind at ease. The Fresh Prince also drops some dope rhymes and his back and forth with Jeff's vocal samples showed off their musical chemistry. To this day the scratching on this track is world class and is great evidence that Jazzy Jeff was one of the greatest DJ's who ever did it.
"Just Rockin'" is a hard hitting battle rhyme track. It features 5 minutes of solid Fresh Prince rhyming over a dope beat and endless scratches from Jazzy Jeff. These days scratching has disapeared from hip hop tracks but this track is a great example of how they could be used to add something extra to a song.
"Guys ain't Nothing but Trouble" is the weak link of the album. It features the same beat as Girl's but features "Ice Cream Tee," a female rapper from Philly, with a response to their hit song. Her rhyming is okay, but she has none of the comedy or storytelling prowess of the fresh prince that propelled the original into the charts. Fresh Prince and Jazzy Jeff jump in with some vocals sporadically but it can't lift the song.
"A Touch of Jazz" is an instrumental Jazzy Jeff track. It features Jeff mixing in various samples and scratching over the top. There are no Fresh Prince rhymes on this although he did rhyme on the "touched by jazz remix" which was on the "A Touch of Jazz 12". Again, this track stands up incredibly well, the samples are amazing and the way Jazzy Jeff scratches them in shows how much he was innovating at the time.
"Don't Even Try It" is a track for the haters and those who dissed Jazzy Jeff and Fresh Prince. It features some of the best rhymes by the Fresh Prince on the album. Jazzy Jeff even jumps on the track for a rhyme in the last verse.
Overall Rock the House is a very solid hip-hop album and shows the innovative styles of Jazzy Jeff & Fresh Prince. Still, the best was yet to come.
Tracklisting
Don't Even Try It
Girls Ain't Nothing But Trouble
Guys Ain't Nothing But Trouble
Just One of those Days
Just Rockin'
Magnificent Jazzy Jeff
Rock the House
Special Announcement
Takin' It to the Top
Touch of Jazz